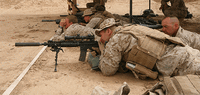 Marksmanship Symposium- Corps Dedicated to Improvement
According to MARADMINS 471/15, come October 19th, 2015, the Marine Corps' foremost experts in weapons and marksmanship will meet at Marine Corps Base Quantico, Virginia for a symposium on how to potentially improve an already efficient system.
Running until the 22nd of October, those in attendance will work together in working groups with the aim of improving five main components to marksmanship- weapons, range facilities, the combat marksmanship program, the competition in arms program, and simulation and distance learning.
Those tasked with weapons are responsible assessing the Corps' current marksmanship doctrine and future deployment possibilities relative to weapons and optics currently in inventory.
In recent years the Corps have added at M27 to their arsenal, this year a hot topic within the working group will be possible upgrades to the primary service rifle for Marines everywhere, the M16A4. Possible upgrades include a new trigger assembly, and free-floating barrels.
M27 Infantry Automatic Rifle (IAR)
Working group range and facilities aims to assess currently available ranges and their original intent and compare them with current training requirements. Based off this analysis, the group will propose upgrades and changes to better train Marines.
Of course, the entire reason ranges exist is to facilitate the training and instruction of the Combat Marksmanship Program.
Last year the Combat Marksmanship Program group introduced the Combat Pistol Program. This year's group will look at expanding the Corps' use of moving targets on ranges. Additionally, improvements to the CMP will be discussed.
Due to the Global War on Terror, the Competition in Arms program had seen competition at its lowest point in years. With the pulling out of Iraq, and the Afghanistan drawdown participation has been on the rise. This working group will look to implement competitions that resemble three-gun, although within the CAP.
With this drawdown for force, so comes a drawback in funding. As unfortunately ammunition and range time will soon be at a premium, it is the responsibility of the simulation and distance-learning group to help field a simulator that focuses on marksmanship.
The Corps has already begun to field a new virtual-reality unit, dubbed the Indoor Simulated Marksmanship Trainer. One big advantage to traditional trainers is the new model's ability to link Marines who may be thousands of miles away together to execute virtual missions.
The symposium highlights the dedication the Corps has to its own and to the standards that they hold themselves too. With upgrades and new developments to their marksmanship program, the Corps will continue to be an effective tip of the spear.