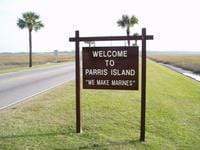 Corps Celebrates Parris Island Centennial
On Friday October 16, 2015 Marine Corps Recruit Depot Parris Island celebrated its 100th birthday with a flyover of Charlie and Oscar companies, made up of about 600 "Centennial Grads". The new Marine Corps commandant, Gen. Robert Neller was also on hand to give a speech to these new Marines.
This isn't the first celebration put on by the Corps this year to celebrate Parris Island; May 19th, 2015, 40 runners and over 240 Marines participated in a 100-kilometer relay race through the recruiting depot and surrounding town of Port Royal.
Since 1915, the 8,095-acre Marine base has taken over 1,000,000 Americans and turned them from civilians into United States Marines.
Any male recruit living to the east of the Mississippi river and all female recruits train here. Currently, about 19,000 recruits annually hurry off their buses and onto those famous yellow footprints. By special request those scheduled to attend training in San Diego may also be sent to MCRD PI.
Although Marines first occupied the island in 1891, it wasn't until 1915 that it was designated a recruiting depot.
Before 1929, all transportation between Port Royal and Parris Island was conducted via ferry. The same year, the General E. A. Pollock Memorial Causeway was completed (although not dedicated until 1984).
During the very beginning of America's involvement in WW2, the 5th, 6th, 7th, and 8th Recruit Training Battalions were formed; in December 1941 alone 5,272 recruits arrived for training, and over 9,000 more the next month.
Many of those trained found themselves on Iwo Jima, D-Day beaches, Guadalcanal, Midway, and every other theater during the war.
Drill instructors are responsible for molding their recruits into Marines and instruct them on subjects such as weapons training, MCMAP, close order drill, and Marine Corps history. Recruits are graded on their performance through the physical fitness test, combat fitness test, combat-oriented swimming qualifications, rifle marksmanship, and a final 54-hour long training event known as The Crucible.
Of all the training aspects listed, the Marine Corps is perhaps most famous for their saying "every Marine is a rifleman"; and the Corps fields some of the finest marksmen in the military today.
Parris Island is famous not only within the Marines, but civilian popular culture as well- Stanley Kubrick's Full Metal Jacket features R. Lee Ermey (a former real-life DI from San Diego) as a Parris Island DI training his platoon for combat in Vietnam.
Marine Boot camp holds a special place in the hearts of those who have endured it. To raise your hand and give yourself to your nation is one of the most honorable things an individual can do - for the past 100 years Parris Island has been an institution within the Corps, and she will undoubtedly stand for a 100 more.