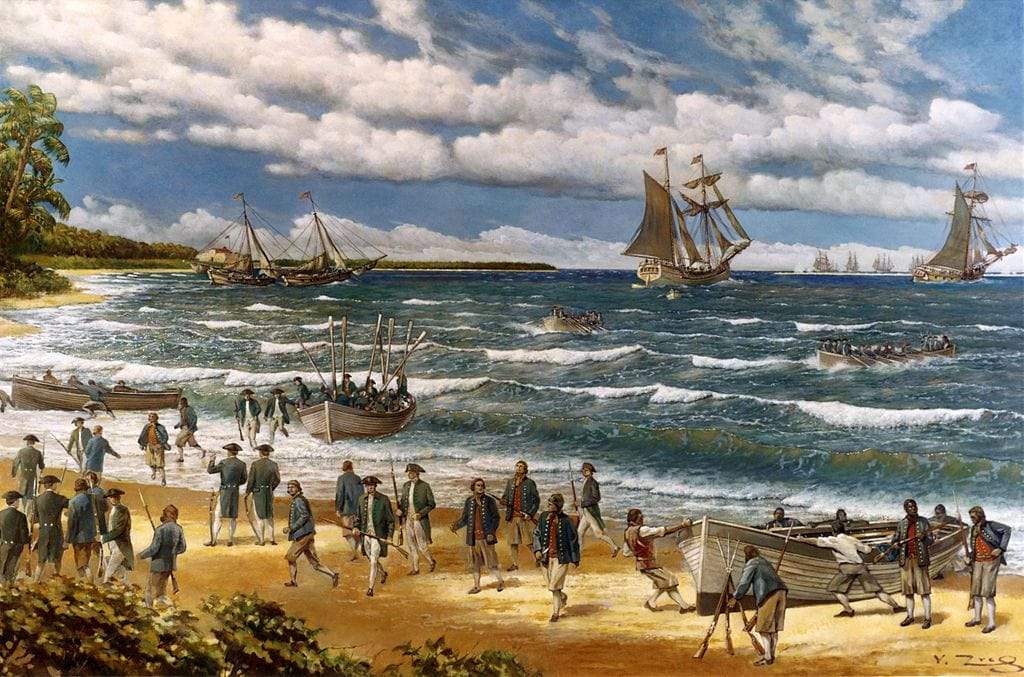 Continental Marines and their role in our Independence!
With the 4th of July here I wanted to recognize the role the Continental Marines played during the Revolutionary War.  Although they were disbanded in 1783 most recognize the Continental Marines as the beginning of the Marine Corps.  Here is a timeline of events.
- November 10th, 1775 the Continental Marines were created with a mission to fight on both land and sea.  They were to provide security forces on board for the ships captain and officers of the Continental Navy.  Marine Sharp Shooters were tasked to take out enemy officers from the fighting tops on the ships masts.  Their third role was to be a landing force for the Continental Navy.  Below is the official decreed from the Continental Congress:
"That two battalions of Marines be raised consisting of one Colonel, two lieutenant-colonels, two majors and other officers, as usual in other regiments; that they consist of an equal number of privates as with other battalions, that particular care be taken that no persons be appointed to offices, or enlisted into said battalions, but such as are good seamen, or so acquainted with maritime affairs as to be able to serve for and during the present war with Great Britain and the Colonies; unless dismissed by Congress; that they be distinguished by the names of the First and Second Battalions of Marines."
- March 1776 the Continental Marines led by Major Samuel Nicholas perform their first landing in Nassau on the island of New Providence, Bahamas.  In 13 days they secured 2 forts and occupied Nassau.  During the raid they seized guns, mortars, and powder.  The first Marine KIA was Lieutenant John Fitzpatrick.  On their way back to Rhode Island they captured four ships and landed in April 1776.  Nicholas was promoted to Major and tasked with recruiting 4 new companies of Marines.
-April 1776 John Martin enlisted as the first African American Marine.  He would proudly serve on the USS Reprisal.  An estimated 12 other African Americans would serve with him.
-December 1776 Marines were tasked to join General Washington's army in Trenton.  Washington was unsure how to use the Marines and assigned them to the Philadelphia Militia (They also wore green uniforms).  The Marines assisted in the decisive battle of Princeton, a major victory for the Americans. This was a huge morale boost and inspired a spike of young men to join the fight.
-January 1778, Marines led by Captains John Rathburn and John Trevett led a second raid on Nassau capturing it once again. The victory was the first time Old Glory was raised on foreign soil.
-April 1778 Marines under the command of John Paul Jones made two raids on British soil, Whitehaven in England and at St. Mary's Isle in Scotland.
 -in 1779 a Marine detachment captured New Orleans. This prevented the British from entering the city. Marines led raids of British Loyalists living on Lake Ponchartrain.
-In 1781, Marines escorted a supply of silver from Boston to Philadelphia. This would be their last official engagement of the war.  The silver came from King Louis XVI of France on loan.  With this the Bank of North America, the nation's first central bank, was opened.
-March 1783 5 weeks after the war ended Marines saw action in what would be the last conflict off the coast of Florida.  
Above is a brief history but for a more in depth look check out wiki 
https://en.wikipedia.org/wiki/History_of_the_United_States_Marine_Corps#Continental_era
Another fact that came out of The Revolutionary War is the nickname Leatherneck.  Marines wore a green jacket with a high leather collar to protect against blades.  Over time sailors serving with Marines began to call them Leathernecks!
Happy Fourth Devil Dogs!